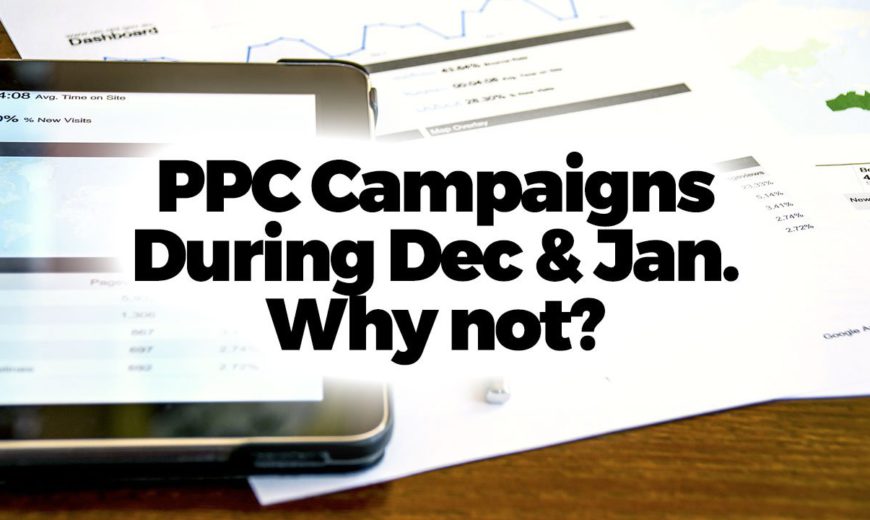 'Tis the season to be jolly and unless you are in Retail or Tourism & Leisure, the reality is many businesses throughout Australia will basically go into shutdown mode until at least mid-January. The logic behind this decision is that people will be taking their time off, kicking back and thus doing business during the period can seem pointless. So as some online businesses to their Google Ads Campaigns.
As such adopting the same approach towards marketing through December and January may feel like the right thing to do but you'll potentially be missing out on loads of opportunities.
Instead, having a well-crafted seasonal Google Ads campaign provides an excellent opportunity to connect with a crowd that's definitely in the mood to spend. The reduced marketing competition will also make it a whole lot easier to carry out an effective holiday period advertising campaign without having to spend too much.
December & January: a wonderful period for retail promotion
According to the Search Engine Journal, retail searches increase by nearly 500 per cent shortly before the start of the holidays. This development is nothing but logical – people are looking for gift ideas.
As such it goes without saying, that if you're into the retail field, December is an ideal period for carrying out a Google Ads campaign. But since many companies start to wind back the execution of such campaigns, preferring to ride the wave of the shopping frenzy anyway, means you'll find it a lot easier to rank for the best possible keywords without having to spend at the same levels you normally would throughout the year.
Do service-based and B2B businesses have similar opportunities?
You may be thinking that if you're a service provider or you operate in the B2B environment, Google Ads promotion during December and January doesn't make a lot of sense.
It is true many B2B service providers pause, or at least trim back, their campaigns during December and January due to the shutdowns mentioned earlier or simply because 'that's what we've always done'.
Instead, business owners and marketers should use this opportunity and change your current Google Ads campaign parameters.
Go for high converting keywords – you'll have limited competition which has the potential to translate into paying less per click for real high-quality keywords that might have been out of your reach from a budget sense other times of the year.
Though the traffic is no doubt going to diminish during December and January, this lack of traffic is relative to those smart enough to continue or even ramp up their campaigns, an ideal time for building your brand identity and standing head and shoulders above the competition.
Another thing you may consider is coming up with a specific December and January offer to be advertised via Ads. Regardless of the fact that fewer people may be searching for B2B services, you can still unleash your creative potential and get prospects to convert through a specific seasonal discount or a special offer for a first-time customer.
There is another serious point to all this and that is your competition, what will they be doing, how will they handle this period. What if they are one of the smart marketers that prefer to zig when others are zagging and in trying to get the edge over their competition, you, decide to ramp up their marketing efforts in order to capture more market share and put themselves in a better market position for business as usual in the new business year, which in reality is really only weeks away. The customers they engage with over this period could be your customers now and what's worse they just might hang onto them when all the holiday period finishes.
There's nothing to lose from this Google campaign strategy
As you already know, Google Ads is a CPC platform. This means you'll be spending money only when people click on your ad.
To put it in even simpler terms – you have nothing to lose. Even if you are still not convinced and you still firmly believe that nobody's going to look at your ads anyways, there is still no need to discontinue or even lower your Google Ads campaigns over the December January period, after all, you're only going to spend money if there is actual customer engagement.
Here are a couple of Google Ads final tips that can help you make the most of the opportunity
1. Increase bidding on mobile devices.
According to Statista, 60 per cent of all Google searches already take place on a mobile device. With the search term 'where to buy' peaking on mobile devices on Christmas eve. Clearly indicates people are still looking for products and services while doing their last-minute shopping.
2. Scheduling & Bid Pricing
Given there are a lot more of your customers on holidays during parts of December and January it makes sense to adjust your campaigns accordingly. For example, during normal times of the year, if you are targeting someone that normally works a 9-5 job, you might be inclined to decrease the bidding during these hours but increase it after. However, during the holiday season, you might want to reconsider this given your customer has much more free time to search as and when it suits her.
3. Manage your CPA (cost-per-acquisition) in line with competitor activity.
Depending on your industry keeping an eye on your competitor's CPC activity can provide you with an opportunity to adjust your bidding strategy, enabling you to reduce your overall CPA. Simply put, if they take the defensive approach by reducing ad spend over Christmas 'because people are on holidays', you being the smart marketer knows full well, people are still in buying mode and you pounce on the opportunity accordingly.
4. Target local search intent.
Lastly, after most of the beers & champers have been drunk and the prawns & ham been eaten, the rest of the holidays are upon us and unless you're going away to some beachside resort, this normally means people will be taking advantage of getting things done in and around the home, which means they are highly likely to be looking online for products and services.
To appeal to this crowd, choose local keywords. Let people in your city or neighbourhood know where you are located, what you have to offer and that you are open for business or at least taking bookings for when you come back.
So, whatever the state of business is in December and January, don't discontinue your online marketing and branding efforts. Instead, get ahead of your competitors by taking full advantage of the slowdown. In fact, if you're a bit creative with the approach, you could end up boosting your business significantly.
For more professional digital marketing advice from experts, please contact our team in Digilari Media. We are happy to take you on the ever-changing digital journey.