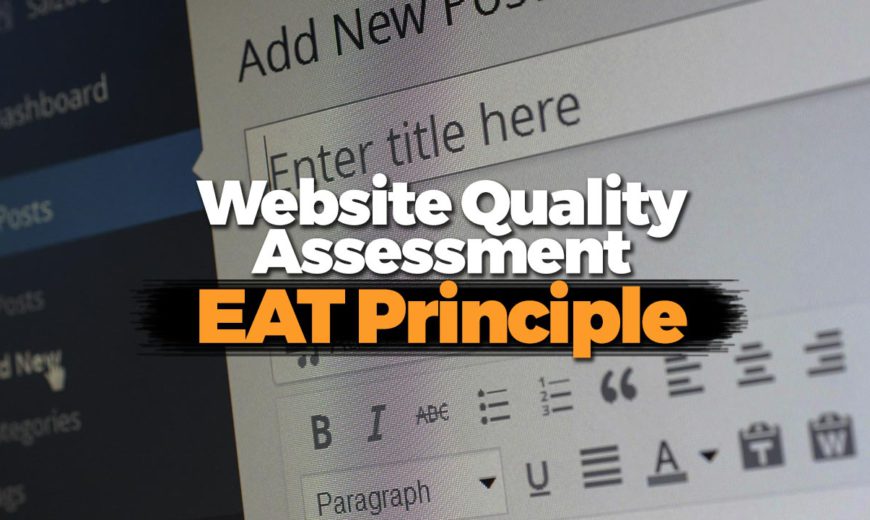 They say that bigger is always better and we're talking about SEO content writing here. Google has a complex formula that's used to assess the quality of a website. The volume of content and the content quality are both important. Here's the reason why.
The EAT principle
Google has lately made things a bit more complex when it comes to assessing website quality. One of the innovations is the EAT principle. EAT stands for expertise, authority and trust. These are seen as indicators of quality and they build the online reputation of your website. The number of pages that you have and the quality of content you've published both have a direct impact on the EAT measurement.
These three criteria are used to figure out which websites present high quality content and which ones are doing a mediocre job.
Let's take a look at the three components that work together to form the EAT principle:
– Expertise: it refers to having both specific and niche content. You focus on a topic that you're familiar with and that you know a lot about. By focusing on this topic and writing in-depth pieces, you are demonstrating your expertise in the specific field.
– Authority: high editorial standards and error-free content are what it takes to build authority. A reputable website has editorial and style guidelines that are followed for the production of every single piece of content.
– Trust: how much are people confident in the quality of the content you produce? This is what trust refers to. It could be expressed in the form of positive reviews or comments left underneath your articles. These indicators suggest that people recognise your expertise and view you as the authority in the respective field (see what we did there?).
It is about size in writing SEO content 
You can't build expertise through a website that has just a couple of pages. You need a SEO content writing and marketing plan. You need regular updates, whether you have a content-based website, a service website or an online store.
One of the simplest things when it comes to enhancing the user experience or improving your optimisation efforts is launching a website blog or a news section. Such a category will give you an opportunity to upload fresh content on a regular basis, increasing the number of pages and the overall size of the website.
When it comes to content, remember that quality is as important as quantity. An editorial calendar should be created in advance. Come up with niche ideas and make sure that they correspond to the needs and preferences of your audience. If you're adding new products, create separate pages that feature detailed descriptions to each. A good structure, targeting and high editorial standards will help you get the recognition you deserve from search engines and website visitors alike.
Tips for increasing the size and the content creation quality of your website
Increasing the number of pages you have is something to do strategically. You can't just write a few sentences, upload an image and call it a day.
The audience's experience should be your primary concern. Use the feedback you get from your website visitors to get a better idea about what they're looking for. This way, you can create new pages that people will want to visit.
When it comes to the creation of new valuable content quality , there are a few other essentials to keep in mind:
1. Do competition research: informative content quality is all about giving website visitors something that nobody else is capable of providing. Doing competition research will give you a better idea about what other similar websites are discussing. You can also get inspired to present an issue from a unique perspective.
2. Keep it short and properly structured: a good topic is the beginning. The quality of the writing is the next important element. Make it tight, engaging and readable. Present the most important information above the fold line. The online audience wants instant gratification. If your texts are too convoluted, flowery and fluffy, chances are that people will not be willing to engage with your pages.
3. Present different ideas on different pages: don't just cram it all up on the same page. Break things down – you will get clarity and a bigger number of high content quality pages. Separate ideas from each other and present them separately. The same applies to products and services.
4. Create follow-ups and make series: if you notice that a certain page is generating a lot of interest, do a follow-up. Follow-ups and series are great for increasing engagement, reducing your bounce rate and having a big number of high quality pages on your website. Google Analytics will give you a better idea about the content creation and the pages that are performing the best. Based on this information, you can come up with additional texts that expand on the original idea.
5. Content creation isn't only text: image galleries, slideshows, videos and infographics are excellent types of content. You can dedicate pages to visual content. Separate slideshows from the main posts. You will give your audience diversity and you'll definitely improve your SEO efforts.
Remember that great quality content is strategic and carefully planned. If you're not a professional in the field, it would be best to hire SEO experts and content writers to do the job for you. Such services aren't overly expensive and the ROI you're going to realise will quickly justify the expenditure.
If you'd like read more about creating high quality content, check on our article "Website Content Should Rarely Be About Selling".