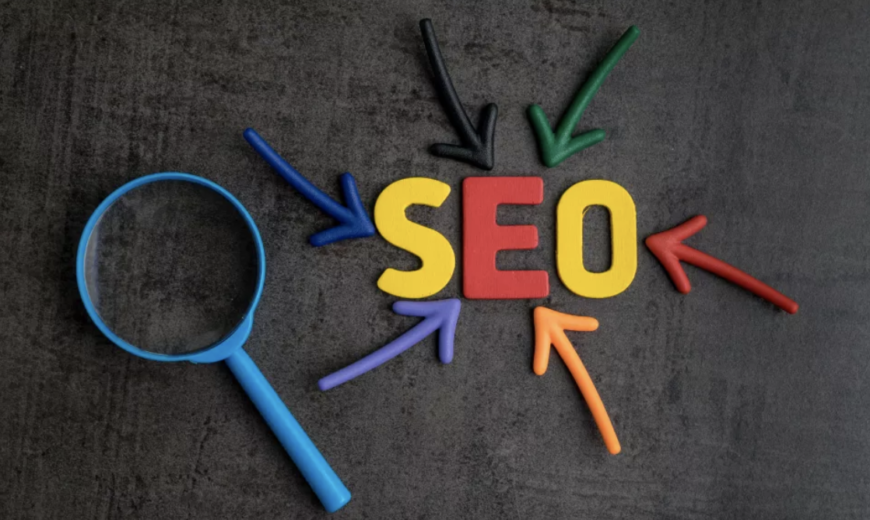 Search Engine Optimisation (SEO) is a very dynamic digital marketing channel. Understanding SEO trends that can influence organic success and prioritising SEO tactics that align with these trends will assist in driving more organic traffic, more leads and more conversions. Essentially driving more client ROI. 
You may be familiar with some of these trends whilst others will provide new insights that you can use in your SEO strategies. So let's get started.
According to the stats, Google organic search is responsible for 53% of the world's web traffic (SEOinc). On the first page alone, the first five organic results account for 67.6% of all clicks. More specifically, for mobile search, the first organic listing receives 27.7% of clicks, versus 19.3% of clicks on desktop (SEOclarity). 
So which trends should you leverage in 2022?
Most SEO specialists look at the technical side of SEO as an important factor for quick organic search wins. That is because Google values sites' technical elements. In mid-June 2021, Google started rolling out its Core Web Vitals feature on Search Console. So what are core web vitals?
Core Web Vitals focus on how good is a user's experience on a website from a user-centric standpoint. These vitals could be viewed as a close cousin to the Page Experience Score that includes in its assessment rank factors such as:
Page Speed
User Experience
Mobile-friendliness
What do Core Web Vitals Metrics Measure?

LCF refers to Largest Contentful Paint (LCP) which measures how long it takes a page to load from clicking on a link to seeing the majority of the content on-screen. This should occur within 2.5 seconds.
FID or First Input Delay (FID): measures page interactivity, or in other words, the time it takes for a user to actually interact with your page. According to Google, pages should have a FID of 100 milliseconds or less.
CLS Cumulative Layout Shift (CLS) – measures visual stability, or how stable elements are on the page as the page loads. Google recommends pages should maintain a CLS of 0.1 second or less.

For a more comprehensive analysis of your website, go to the core web vitals feature in Search Console. This tool will provide details such as the types of issues that need addressing, their trends and the number of URLs affected so you can prioritise which to optimise first.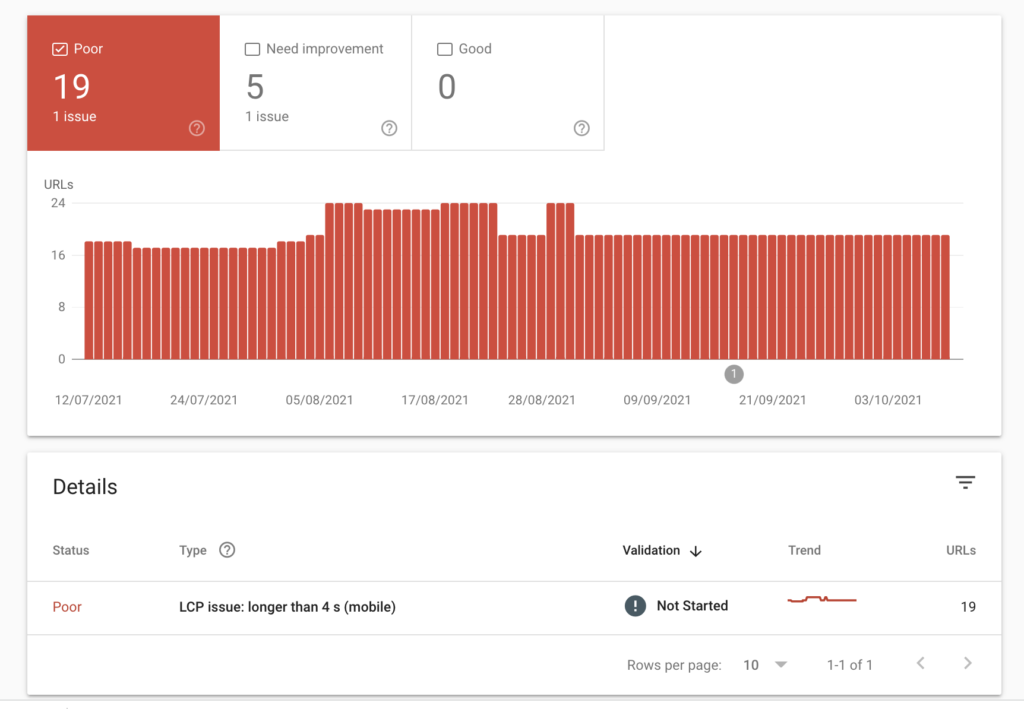 Why Are Core Web Vital Metrics Important?
Firstly, it's important to point out that improvements in core web vitals won't instantly land you in the first position in Google's Search Engine Result Page (SERP). However, it does signal to Google that when users do land on your site, they should have a good experience through faster loading pages and highly interactive elements. This will allow users on both mobile and desktop devices to quickly find what they want.
How Can You Improve Your Sites' Core Web Vitals?
In order to improve Core Web Vitals, think in terms of reduction, removal or setting dimensions for improved page performance.
Here are some opportunities to consider:
Remove any redundant third-party scripts
Minimize or defer JavaScript to avoid page drop off and user frustration
Set up lazy loading so images load only when scrolled
Setting up browser caching to allow for faster content loading
Set size attribute dimensions for any media such as video, images or infographics. This will allow a user's browser to measure the exact space elements will take up on the page, keeping it stable as the page loads.
Reserve ads space elements so they don't suddenly appear on the page, pushing content down, up or to the side.
By monitoring your site's core vitals, you are ensuring users are having an interactive and good user experience.
Whilst optimising what's happening on-site is important to improving user experience, we also must understand how users behave before clicking onto a site.
A recent trend in user searches has identified zero-click searches are becoming the norm in search behaviour. Zero click searches largely result from "position zero" search results directly answering users' search queries. Position Zero search results are available in the form of a snippet at the top of the search results page.
So why are Zero Clicks an SEO game-changer?
Zero click searches result from queries that can be answered without further clicking.
In 2020, statistics revealed that nearly 65% of Google searches ended without a click to another web property — rising from 50% in June 2019. Drilling down a bit further, 46.5% of desktop searches resulted in zero clicks, compared to 77.2% on mobile devices. Zero click searches largely result from "position zero" search results in the form of featured snippets, knowledge panels and Instant Answer Features.
This suggests users are looking for short and practical answers to specific questions such as…
Database-style search queries around specific information regarding products, recipes, etc.

Dictionary and encyclopedia-style search queries

around "what is" and "definition of".

Map direction-style search queries for local searches such as "near me", "Indian restaurant near me", etc.
From an SEO perspective, this makes driving site visits a little more difficult.
Key Tactics to Prompt User Engagement:
Analyse click metrics to identify keyword decisions that could drive site visits and engagement
Optimize your keywords and create content to win featured snippets
Add structured data markups related to intent (i.e. FAQs, local search, reviews, etc.)
Optimise for image snippets (i.e. optimise image file names, image context, image alt tags)
Utilise Youtube and Pinterest for video and image content
Now that we have examined both technical and user behaviour trends, the third trend to consider is Google E.A.T
#3 E.A.T - Expertise. Authoritativeness. Trustworthiness
What is Google E.A.T?
Google prefers content quality when it comes to ranking. It uses a Quality Score based on the rating of the overall user experience that your landing pages provide when users search your primary keyword(s). As part of the quality rating process, Google assesses E.A.T or EAT content, also known as Expertise, Authoritativeness, and Trustworthiness.
Why is E.A.T Important?
Google ranking systems are designed to identify sites with high EAT. More specifically, it tries to value sites that are important to people. For example, they focus on websites that offer products and services that help people make decisions involving their "money or life", as these topics could potentially impact a person's future happiness, health, financial stability, or safety. For example, financial, legal, healthcare and medical services to name a few.
Google calls such pages "Your Money or Your Life" or YMYL. Google uses Quality Rating and E.A.T factors to ensure it doesn't highly rank in SERPs sites that aren't credible or accurate on the subject matter.
Expertise
So when we are talking about the 'E' in E-A-T, websites should provide information written by authors who are qualified experts or have enough experience to provide relevant advice on the topic.
Tactics You Can Use to Improve Expertise on a Website:
Fill out author pages with information about the author's experience, qualifications, awards, and mention where they've been quoted by relevant experts
Add professional organisations your business belongs to
Mention awards that your business has won and qualifications that your team has earned
Show years of experience operating in the industry or conducting R&D
Authoritativeness
Authority refers to reputation, particularly amongst other experts and influencers in the industry. To evaluate authority, raters search the web for insights from independent sources, not information that is created by the organisation to establish the reputation of the website or individual.
Key Authoritative Sources Include:
Product or brand reviews
Product or brand references/mentions
Recommendations by experts
News articles and other credible information created/written by individuals about the website
Tactics You Can Use to Improve Authoritativeness on a Website:
Create well-researched content that can be amplified across multiple platforms
Create guest posts on high authority sites within your sector
Publish original research and distribute it to relevant interested parties
Establish connections with authority figures in your particular field
Cite recommendations from experts about your topic
Build citations on relevant directories
Trustworthiness
Trustworthiness refers to proof that the information provided is trustworthy. Quality Raters examine trustworthiness by looking at the website as a whole and focuses on whether the webpage or author provides accurate and helpful content. This can be measured through feedback gathered from users and links from third-party websites, signalling you are trusted in your industry.
Tactics You Can Use to Improve Trustworthiness on a Website:
Create shareable content, which increases links, engagement and brand awareness
Highlight testimonials
Increase positive customer reviews
Provide content around privacy policies, refund policies, warranty policies and T&C policies
Implement outbound links that are in line with scientific/research consensus
By keeping these three trends top of mind when determining your SEO strategy, you can work towards improving user engagement and important website metrics such as time on site, bounce rate and site visitation.
For more information on this topic, please contact Digilari Media and speak to an SEO specialist.