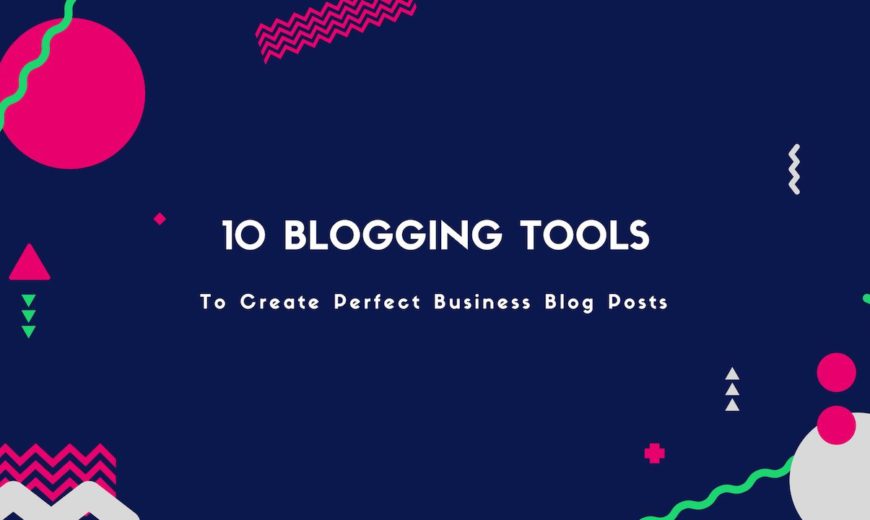 Blogging has been one of the best ways to reach potential buyers online for years. According to Demand Gen Report's 2018 Content Preferences Survey, 71% of respondents stated they reviewed blog content while on their buying journey. The report also revealed that blog posts took the top spot when it comes to most shared content formats.
However, due to overwhelming amounts of available content in the blogosphere, buyers also become more discerning and selective in the consumed content. So the big challenge most content writers face today is creating useful, amazing content that grabs people's attention, gets them to share, and keeps them coming back.
Googling "writing tips" might be a good starting point. But blogging is definitely much more than writing. There are a lot of influencing factors, such as creating a catchy headline, improving search engine SEO, and distributing it across channels.
This article suggests 10 free blogging tools to help you streamline your blogging process and produce much more effective content, without sacrificing your content quality.
Before reading on, remember these tools are not magic pills. You still have to sit down and write. However, they will help you get things done more efficiently.
Tools that help you brainstorm blogging ideas
If you have a blog idea but do not know where to start, Quora is a perfect place to get the inspiration. This crowdsourced answer website can provide unique insights and quality answers around different topics.
Not only will you know specific concerns of people around a topic, you will also learn whether that topic is well-received or not by calculating the number of questions and answers populated around it.
I have used Quora for suggestions about most-used blogging tools before trying them for my blogging process. Simply pop in a keyword and follow related topics, or submit a new question and wait for answers from the community.
Find it hard to structure your blog title? Hubspot's Blog Ideas Generator is of great help. The tool asks you to enter three keywords, then it will suggest five headlines for you.
This tool is truly a time-saving tool. Even better, I find suggested titles that match different buying stages. Therefore, whenever planning on content to support an inbound marketing campaign, I always turn to this tool for blog series inspiration.
This tool works similarly to Hubspot's tool. Key in a keyword, and hit the enter button. There you go!
What's really exciting about this tool is it adds entertainment value along the way, enabling you to achieve fun, unique, eye-catching titles that will easily help your blogging activity to become outstanding.
Below are five examples of some of the wonderful titles that I got with the keyword "blogging tools":
How blogging tools could help you win the Game of Thrones
6 facts about blogging tools that'll make your hair stand on end
18 reasons blogging tools are sweeter than Christmas morning
How blogging tools will stop North Korea
The Hunger Games guide to blogging tools
Blogging tools that optimise your content for SEO purposes
Google Keyword Planner shows you search volumes of your targeted keywords. Even better, this handy tool also suggests relevant keywords for your topic. Just type in a topic, Google Keyword Planner will then generate a keyword list that you might want to include in your article.
Google Keyword Planner is my top of choice when it comes to keyword research because it is the data provided by Google. The dark side is it is not fully free. To have full access to those data, you need to have an active AdWords campaign or you can only see search volume in ranges such as 0, 1-100, 100-1K, 1K-10K, 10K-100K, 100K-1M, 1M+.
Looking for alternatives? Read on for a keyword tool that can give you full search volumes without limiting your data.
Ubersuggest is one of the best free alternatives to Google Keyword Planner when you want to check people's search intent around specific keywords. This tool also suggests related keywords and allows you to download the list for further reference.
I love the tool's friendly UI (user interface) & UX (user experience), making it very easy to navigate around.
Love to have search volumes on the go? Keyword Everywhere is the tool for you. The tool reveals data for your keyword right under Google Search bar and Bing Search bar. All you need to do is install this plugin into either Chrome or Firefox. Regrettably, since writing this blog, Keywords Everywhere is now a fee-for-service offering.
Warning, you might fall in love with this tool right from the first sight!
Inspired by the fact that we are all searching for something (when using search engines), Answer The Public presents you with questions, prepositions and alphabetical lists related to your query.
The tool's visualisation gives you plenty of choices for LSI (Latent Semantic Indexing) and long-tail keywords. What's more, when combining with Keyword Everywhere, you will have a nice visualisation-based keyword map with search volumes. This means you can identify all the important, worthy whys, hows, and whats people are asking within seconds. What else can you ask for?
Tools to beautify your blog content
Don't want to shell out for an article's image? Visit Unsplash where you can find beautiful and unique images that are free to download and use.
To be honest, I used be sceptical about stated "free images". When it comes to stock photography, free usually means cheesy. Unsplash totally changed my mind. I was amazed by the high quality and artistic level of each photo. As stated on the website as "Beautiful, free photos. Gifted by the world's most generous community of photographers.", Unsplash is really the game changer.
Click here for exceptional good stock photos. And do not forget to credit photographers whenever possible.
Handpicked by our Account Manager Jake Gaw, Pexels host an extensive collection of beautiful free stock photos licensed under the Creative Commons Zero (CC0) license.
This easy-to-use website has a pleasing and non-intimidating interface, making it extremely easy to search and download. Beyond free stock images, the site also offers amazingly stunning free stock videos.

Blogging Tools to distribute your content
Buffer lets you schedule posts to different social media accounts in one place.
Instead of signing in to different social platforms, you can distribute your article to those platforms with just one click. Buffer's free plan allows you connect up to three social media accounts.
I have been a loyal user of Buffer since 2012. I believe its greatest strength lies in its design to support you to tailor messages for each social platforms.
Your favourite blogging tools?
That's our list of 10 blogging tools that we use at Digilari Media. As blogging is a central part of our inbound strategy, we always strive to improve our blogging process to maximise our efficiency. I hope that these tools can get you through some tough times like they did for me.
I'm always keen on learning more about what tools are out there. If I missed any of your favourite tools, please do share with us.