Digital Marketing Internship
Looking to kickstart your digital marketing career?
As an accredited Google Partner Digital Marketing Agency, Digilari Media specialises in digital strategy and execution across multi-channels for a range of clients. With our Digital Marketing Internship, you'll get hands-on experience in SEO, Paid Ads, CRO, Social Media Marketing, Email Marketing, and more with guidance from industry specialists. This virtual internship provides hands-on experience and the opportunity to receive a certificate of completion. 
So why wait? Apply for Digilari Media's Digital Marketing Internship now and get ready to launch your career!
Build Your Digital Marketing Career Brick-by-Brick with our Internship Program!
Do you remember playing LEGO when you were a kid? Assembling those colourful pieces from brick to brick to build something magnificent? Our Digital Marketing Internship now invites you to come and play with us. We aim to provide you with those little bricks of great opportunities to learn the latest in digital marketing from professionals in the field. With those colourful bricks, we'll help you build the bridge between your university studies and real-world future career, turning pure marketing theories into practical applications.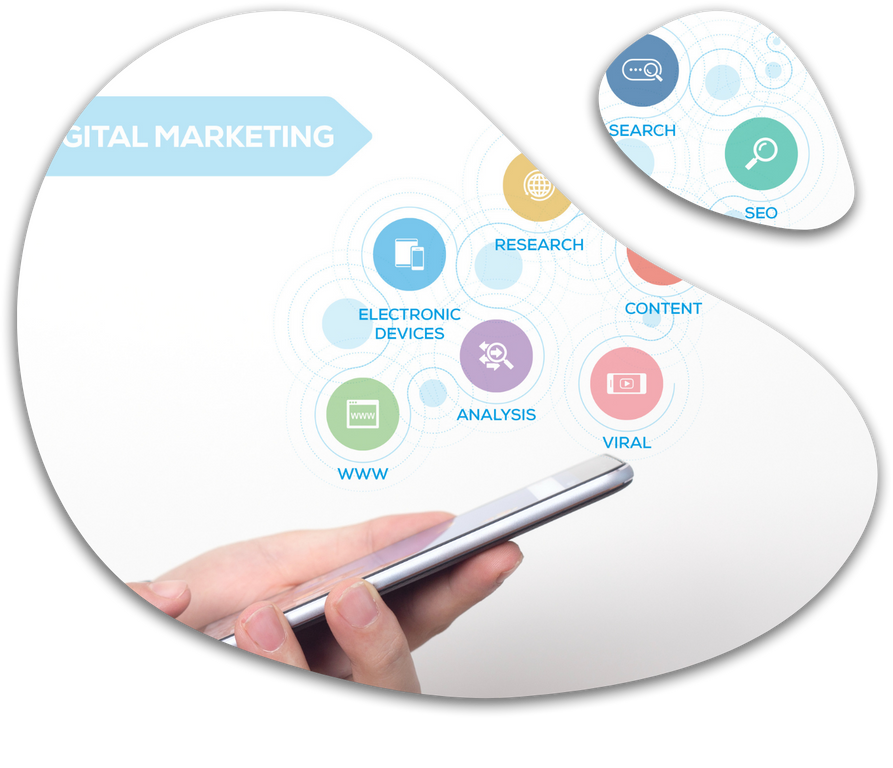 What You Will Gain From Our Digital Marketing Internship
We remember what it's like being a uni student or a fresh graduate. Do you believe that you're all set and equipped with knowledge and experience to succeed at your job? Or actually, you just feel as lost as we did when we first embarked on this career path. The most exciting fact about digital marketing is that there is always something to learn and improve. Either you're a student with a fresh start in digital marketing or a graduate with some prior experience, our Digital Marketing Internship guarantees you'll meet new perspectives and strategic approaches. This sounds a bit vague, right?
We know that most people think digital marketing is just about posting on social media, but there's so much more to it than that. Inbound and social media marketing are just two pieces of the puzzle. Ever wondered why some ads appear on the top of the search results page? That's where SEO and PPC come in, and we'll show you how it's done.
Creating good content is only one part of the equation, because data analytics is just as important. We'll teach you all about digital analytics, so you can help our clients get to the top of the search results page. It's a big responsibility, especially since they're entrusting their budget to us, but we'll guide you every step of the way.
Joining our program is a guaranteed way to level up your skills and stay ahead of the game. You'll be using the latest strategies and tactics that only a Google Partner Digital Marketing Agency like us can provide. Why will you be more advanced? By simply getting exposed to:
By encompassing all these colourful bricks, you'll be given an extensive training and experience through hands-on learning all guided by industry leader specialists. Through rotation during the internship, you'll have the chance to work with all these digital marketing tools, gaining a deep understanding of their application and finding those areas that suit your passion and capabilities the most. Successful interns, those who show commitment, drive and growth will be also the ones that will have the opportunity to join our team when paid roles become available.
What We Expect From You During The Internship
As a company full of ambitious people, we always want to grow. The purpose of this Digilari Digital Marketing Internship is to help students and fresh graduates begin their career in digital marketing. In the meantime, it also allows us to spot top talents and invite you to join our team.
If you have a genuine desire to build your career in the digital marketing field, this internship is ideal for you. We are looking forward to having you join our team! Besides, as a high performance digital marketing agency, we expect a few other characteristics from you.
We look for
Business Knowledge
You should be studying business-related subjects at the university and be looking for hands-on experience with the latest strategies and trends in the digital marketing arena. A solid knowledge base can be seen as the foundation of a building. The stronger the foundation, the taller a skyscraper you can build. Therefore, we expect you to have completed at least one of the Google certifications and have some broader marketing knowledge to enable a headstart on the steep learning curve you are about to embark on.
Willingness To Keep Up-To-Date
The digital marketing industry is constantly evolving that if you don't keep up, you'll fall behind. Digilari are a high performance digital marketing agency that always tries to stay on top of the industry trends. As a part of our team, we expect you to have the willingness to accept these new changes & update your knowledge continually to stay up-to-date with this fast-paced industry.
Communication Skills
During this Digital Marketing Internship program, lots of the time, you will be working with other people to tackle problems. Therefore, we believe that communication skills is one of the most important & useful soft skills you will need in a workplace. We expect that you are confident in communicating with others and wanting to practice and enhance it even more.
High Sense Of Accountability
To be a successful intern, you should have a high sense of accountability, i.e. commit to your work, own your success and mistakes. We offer you gateways to the world of digital marketing with real life clients' tasks, and we need you to take them serious. Making mistakes is okay as long as we all learn something from them.
The Digilari Digital Marketing Internship program is 12 weeks (approximately 3 months) in length, and requires your availability of 2 full days a week. Why do we offer 2 days a week while many other companies usually offer 1 day? From the feedback received from previous interns, it indicates that the interns progress faster & learn more working 2 days a week. Think of the fact that if you can't finish a task within a day, and come back a week later, often the issues have been resolved and you'll miss most of the brainstorming and strategy discussion.
We will be doing our best to guide you as much as we can, and you will be amazed by how much you can learn in 12 weeks & what a different person you will become after this internship.
Our Team
Who You Would Be Working With During The Internship
As you may have noticed while browsing our website, we embrace an open culture here at Digilari Media. We value transparent communication and information sharing. Coming to this Digital Marketing Internship, we're eager to share our knowledge with you, to help you gain practical first-hand experience and grow. As we all once were students, we understand the difficulties you might have transitioning into the work life. We've been there, done that. Therefore, we want to help. There's a lot to learn and we're willing to share.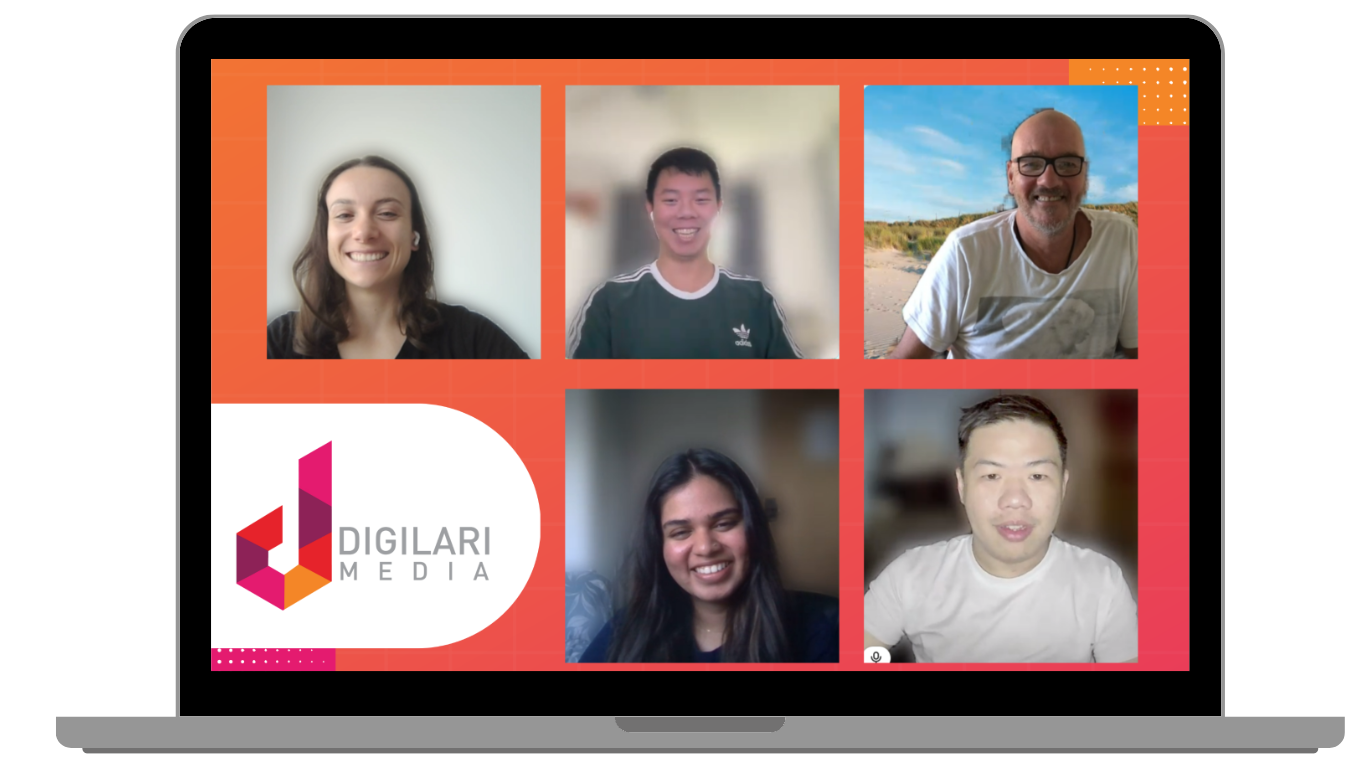 Throughout the course of your Digital Marketing Internship, you'll be working on different clients' tasks alongside our energetic and highly skilled team. Our team members are all certified by digital marketing industry leaders like Google and Hubspot. On top of that, the team is led by Sean Brown, our Managing Director, who has over thirty years of experience in sales and marketing.
Much as we are serious when it comes to work and obsessed with results, we also enjoy making jokes on ourselves and each other, as well as hanging out after work from time to time.
As a lean agency, we don't have all the fancy 'Digital Marketing Agency' trimmings, but we do have some great clients, and we're in a solid growth phase. Check out what our clients say about us yourself. Now it's a rare opportunity for you to join a business in its formative years.
(This page is developed by Year 2018 Interns Nhu, Petra & Harry)
What our Digital Marketing Interns have to say

Digilari's internship program has been an amazing experience, providing me with invaluable insights into the inner workings of the dynamic digital marketing industry. I have had the privilege of acquiring an extensive range of skills, including SEO, PPC, Google Analytics, CRO, and proficiency in tools such as Ahrefs and SEMrush. One of the standout aspects of Digilari is the commitment and patience of every team member to your learning. Their dedication to my learning experience has been exceptional, offering me the opportunity to apply theoretical knowledge in real-world scenarios. The hands-on nature of the internship has been instrumental in honing my expertise across various digital marketing strategies. The internship program at Digilari was really well structured to maximize the value of the experience, allowing interns to delve deep into the intricacies of the digital marketing landscape. I also had the chance to meet Sean and Sheng in Brisbane apart from our usual remote working! I highly recommend Digilari's internship program to anyone aspiring to gain first-hand experience in the digital marketing field!

"Digilari's digital marketing internship provided me a remarkable headstart in the marketing industry. Before joining the 3 – month program with little background of digital marketing, I never could have imagined the opportunity to gain insights of the backstage of this dynamic industry. It was fascinating to delve into different aspects of digital marketing, ranging from SEO, PPC and Social Media Strategy and underwent hands – on experience using different tools like AhRefs, Hubspot and SemRush. Thanks to all the lessons from the dedicated and professional Digilari Team, I have encountered valuable skills and knowledge from the field with confidence. Everyone ensured that I attained a thorough understanding of the concepts of digital marketing fundamentals and could optimize my ability in real tasks. I also had chances to join physical meetings with Sean and Sheng in Brisbane, and it was wonderful to get to know them better beyond the screens. It is a wonderful experience for everyone who is looking for a fresh beginning in digital marketing industry!"

Participating in Digilari's digital marketing internship highlighted the importance of adopting a wide range of tools and techniques to develop successful digital marketing campaigns.

Since completing my internship, the approach I've taken to my professional career has shifted. Previously, I strived for a marketing position that focused on campaign coordination. However, my internship has provided me with the experience to learn about the back-end tools required to implement successful campaigns. I found a lot of value in learning about SEO and PPC and really enjoyed learning how different marketing tools work together to drive positive business results.

As a creative person with a passion for theory-based research and optimizing consumer experiences, the tasks I've completed have provided me with opportunities to think outside-of-the-box which has been extremely valuable. I am very grateful to this internship for the opportunity to put academic learning into practice and to network in this vibrant industry.

"Completing this digital marketing internship has made me realise how valuable this experience has been. When I compare what I've learned in this program to what I've been taught at university, I realise the importance of an internship like this is for anyone interested in the marketing industry. I would highly recommend the Digilari internship over any other internship. Instead of just providing work experience the entire Digilari team is dedicated to making sure that you learn and understand everything necessary for digital marketing. Each member of the team devoted their time to provide one-on-one training to share their skills and knowledge with me. Not only do I now have experience in this industry, but I also now have the confidence to get a job in this field."

"This internship was amazing and enabled me to gain real-world experience in this ever-changing industry. The Digilari team was so friendly and open to suggestions and questions, it felt like you are really part of the team. I have learned so much about SEO, PPC, Social Media Marketing, and data analysis, which are essential knowledge in this industry. I highly recommend this internship to individuals who are open-minded and willing to learn."
"Digilari Media is a digital marketing agency with an emphasis on doing tasks the right way. Before joining Digilari I saw many ways to start a digital marketing agency online and I was left very confused, lost and stagnant. I can safely say that after working at Digilari I have found a new confidence in myself and my abilities. In my first week of working at Digilari Media, I learnt more about digital marketing and how a real business operates than my entire three years at my university degree. I have gained certifications across multiple platforms including, Hubspot, Google, and Facebook. I have also learned and applied skills on industry tasks in SEO, PPC, digital auditing, and social media marketing. The environment at Digilari Media was very challenging and fast-paced but the team was also very welcoming, fun and social. I highly recommend this internship to creative minds that enjoy learning new concepts and challenging their limits."
"The reason I applied for this internship position is to gain an insight of the current digital marketing world and understand how data can be utilised to achieve Ad performance enhancement. The internship position in Digilari has answered all my questions by introducing me to a range of digital marketing tools such as Google Analytics, Google Adwords, Ahrefs & SEMrush. Apart from learning the tools, participating in this internship program also change my work attitude, from "This should be good enough" to "How to make it better?". I have learned so much about digital marketing, I highly recommend this internship for people who want to apply theories they learn at Uni to the real marketing world."
"The internship has exceeded my expectation with carefully planned training sessions, practical tasks, and a friendly yet professional working environment. During the internship, I was provided with just enough guidance to trigger my mind and explore issues on myself. Besides, I was granted access to real clients' accounts and worked on improving their business. The trust and respect I felt while working at Digilari was profound, and I really appreciate this! Thanks to the internship, I can see a tremendous self-growth. I highly recommend the Digilari Digital Marketing Internship for people who want to enrich their experience in the digital marketing field, who want to learn hand-on, and who want to work in a truly professional environment."
"Coming from a financial background, I was skeptical about digital marketing. Is this really for me? Am I going to update social media 8 hours per week? Exceeding my expectations, the Digilari team has welcomed me and my prior experience with open arms. Weeks after weeks, I could see through the rotation what areas I am more comfortable with and what the more challenging ones are. Because digital marketing IS challenging, do not kid yourself. Having my own AdWords project baby helped me look deep into statistics and make truly strategic digital marketing decisions. How would I describe this journey? Diverse, challenging, pushing you to your own boundaries. Was it worth it? Finding my passion in marketing that I could not find at uni should answer this question. Thanks to the internship, I can see a tremendous self-growth. I highly recommend the Digilari Digital Marketing Internship for people who want to enrich their experience in the digital marketing field, who want to learn hand-on, and who want to work in a truly professional environment."
"Who would have known that across 8 weeks of interning you can learn so much and be 'accidentally' hit with so many nerf bullets. From starting at Digilari I had a broad overview of digital marketing, what it was about and how everything worked. But learning alongside the fantastic team that is Digilari Media, I have further developed my skills across a broad range of theories and how to apply them. I was extremely eager to gain hands on experience and this internship has been that and more, from attending Google events to creating and designing newsletters I feel as though I have really furthered my understanding and skill set within the marketing industry. Thanks to the internship, I can see a tremendous self-growth. I highly recommend the Digilari Digital Marketing Internship for people who want to enrich their experience in the digital marketing field, who want to learn hand-on, and who want to work in a truly professional environment."

Being an intern at Digilari Media gave me a head start about the marketing industry. As a student who studied a non-business degree (Media and Communications), I was lost and have to go through scratch but with the team's guidance, it really helped push myself to explore and acquire new knowledge with SEO, PPC, and Social Media management. They trained me with a straight-forward internship planning that can easily know your progress and development. Personally, this helped challenge my creativity and go beyond expectations in being logical and open-minded in knowing about the clients. Digilari Media really knows what's the best for them. Beyond this, working with Digilari's energetic yet professional environment made my experience worthwhile indeed! I would recommend this internship highly enough if you wanted a challenge in learning new skills and help in transitioning your Uni life into professional working field 🙂

This internship enables me to learn a lot of things, not only the basic knowledge regarding marketing but also real-world experience through practice. Digilari provides a friendly environment for interns to start up. All internship procedures are well planned and delivered by professional and patient team members. Although I am not a marketing student, I feel comfortable with their teaching measures. Starting from not being familiar with what exactly digital marketing does to now having a decent understanding of PPC, SEO, SMM, CRO, inbound marketing, and how to apply them via a variety of platforms, I realize how much I gain throughout this internship. One special thing to mention is that Digilari is an inclusive team. We have weekly meetings and everyone is open and willing to share what they learned and their thoughts. Digilari tries to let everyone involved as they encourage new ideas and different opinions. I highly recommend people like uni students to apply for this internship no matter whether you major in marketing or not as long as you are interested in marketing and seeking a good place to grape some first-hand experience.
Interested In Our Digital Marketing Internship?
Please note: Internship intakes are closed at the moment.
Our Digital Marketing Internship program offers two intakes each year, one in February/March and another in July/August.
Our internships are remote-based with potential in-person training sessions in Brisbane and/or Melbourne.
They last for 12 weeks (3 months) and interns are requested to attend 2 full days each week. 
If you would have any questions regarding our digital marketing internship, please email us at marketing@digilari.com.au.
If you are ready to apply for our internship, please fill this Google Form and attach your resume and cover letter at the end for us to review during the internship application period.
We look forward to hearing from you!