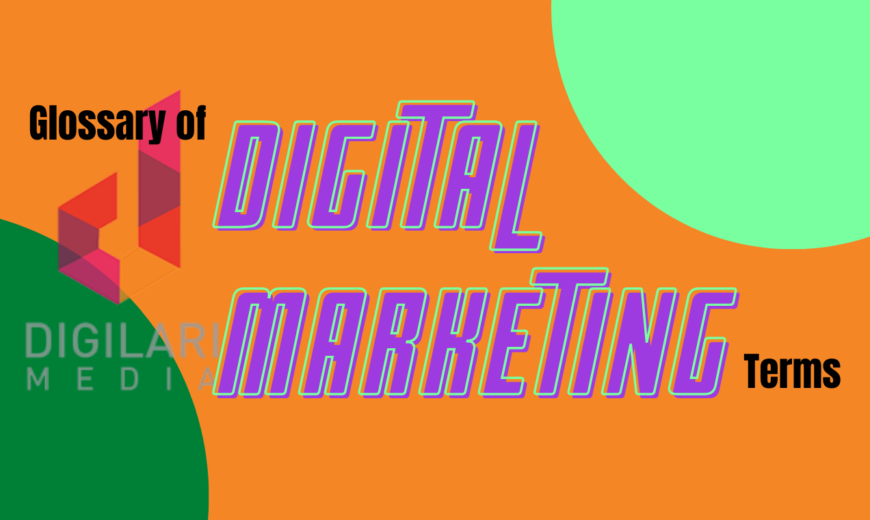 Consumers are becoming more and more active online. Digital marketing brings forth many benefits as it reaches potential customers immediately. Since digital marketing is an ever-changing strategy, marketers have to stay on top of the latest trends and be able to adapt to constant changes. A digital marketing campaign can be classified as SEO, PPC, CRO, SMM (Facebook, LinkedIn, TikTok), Email Marketing, etc.
General Digital Marketing Glossary of Terms
Goal Conversion Rate
Percentage of goals completed per total of visits.
Conversion
The completion of a desired action by a website user, which usually includes the subscription to a newsletter, purchase of a product or service, phone call, email click, form fill, etc. 
Bounce Rate
Percentage of visitors leaving your site after viewing only one page without taking an action.
Click-Through Rate (CTR)
Percentage of times your website's link was clicked on any given channels compared to the total number of times the link appeared.
Keyword
A word or phrase that a Web user types into a search engine (i.e. Google Chrome).
Pull Marketing
Marketing efforts designed to "pull" or attract sales prospects to your website, brand, and products or services.
Marketing Analytics
Data-driven approach to the measurement of marketing effectiveness.
Customer Segmentation 
Process of categorising and segmenting customers based on different criteria.
Search Engine Marketing (SEM)
Process of increasing the amount and quality of traffic to your website using both SEO and paid advertisement.
Title Tag
HTML element on a web page that represents the most relevant keyword and information on the page.
Sitemap
List of pages on a website that is accessible to search engines, crawlers, and users.
Anchor Text
Text within a website that is clickable and links to another page on the site.
Algorithm
Set of rules that help search engines rank, filter, and organise search results and advertisements.
SEO (Search Engine Optimisation) the techniques used to rank a website higher in Search Engine Results Pages. Your website becomes more visible to people searching for solutions relating to your brand, product, or service via search engines like Google and Yahoo.
Primary Keyword
The target keyword of the page which is usually the most relevant and representative term to your page content.
Secondary Keyword
Synonyms of the primary keyword. When creating page content optimised based on the primary keyword, replacing some of them with the secondary keywords can prevent "keyword stuffing". 
LSI Keyword
"Latent Semantic Indexing" keywords are the related words and phrases to your page topic. They help Google better understand if your page content is really relevant to the topic you are writing.
Keyword Stuffing
It refers to the practice of loading webpages with keywords in an irrelevant context just to manipulate ranking performance, prioritising crawlers over user experience. Search engines like Google punish websites employing this practice by lowering their ranking performance.
Meta Title
The page title shows on Search Engine Result Pages (SERPs) and is usually optimised for the target primary keyword.
Meta Description
Shows on Search Engine Result Pages (SERPs) and describes briefly what that page or website contains. In an SEO campaign, it is critical to optimise meta descriptions with primary keywords and LSI keywords.
Domain Rank or Domain Authority
Refers to how well a whole domain will rank on Search Engine Result Pages (SERPs).
Heading
HTML tag that allows for content to become SEO optimised.
Search Engine Results Page (SERP)
Page of results that is populated after a web user makes a search on search engines such as Google Chrome.
Alt Attribute Text (or Alt Text)
Text description of an image that signifies what the image contains.
Branded  Keyword
Set of organic and/or paid keywords that include the brand or business name.
Link Building
The practice of gaining links from other websites redirecting to one's website to improve its domain authority.
PPC (Paid Advertising) Glossary of Terms
PPC (Pay-Per-Click) is an online advertising model where advertisers run ads on a platform such as Google Ads and pay a fee every time someone clicks on it. Businesses use PPC to drive traffic, sales, or inquiries from their target audience. PPC is commonly used as an overarching term for all Google Ads campaigns.
Cost Per Click (CPC)
Refers to the cost of each click in a paid campaign.
Ad Copy
Includes headline and description variations written within the ads.
Ad Extensions
Google Ads features that allow additional pieces of information to appear beneath ads, including price, webpage links, ratings, sitelinks, etc.
Bid
The maximum amount of fees an advertiser is ready to pay for a click on a platform.
Daily Budget
The allotted funds you are willing to spend on PPC ads each day.
Geographical Targeting
A tactic to display ads only to users within a certain geographical location range.
Landing Page
The webpage that a Web visitor lands on when clicking through ads.
Quality Score
Google's rating of the quality and relevance of keywords, landing pages, and campaigns.
Product Listing Ads (PLA)
Type of paid ads providing more information on products such as images, price, and brand name.
Return On Investment (ROI)
ROI refers to the comparison of the profits and costs of your campaigns.
CRO (Conversion Rate Optimisation) is the optimisation of the percentage of visitors who complete a desired action, such as filling a web form, signing up for a service, or purchasing a product. CRO attracts highly-qualified leads, increases revenue, and lowers acquisition costs.
A/B Testing
A method for measuring the performance of two different versions of a web page or app.
Behavioural Targeting
A marketing method that uses web user information to strengthen advertising campaigns.
Call To Action (CTA)
Button, text or hyperlink that invites people to perform a conversion or desired action.
Sales Funnel
Marketing term for the journey potential customers go through on their way to convert (perform a conversion).
Personalisation
Act of tailoring a product, service, or experience to match individual visitors' needs, desires, and expectations.
SMM (Social Media Marketing) describes all activities performed on social media platforms to promote and market a business and its products or services. Social media platforms are used to connect with specific audiences to build brand awareness, increase sales, and drive website traffic.
Content Marketing
The practice of strategically creating and sharing online materials (i.e. viral posts) to attract targeted prospects throughout along their buyer journey and convert them into profitable customers.
Engagement Rate
Metric that tells how much interaction a social media content earns from followers and platform users.
Traffic
Number of users who visit a given website or Web page.
Geotargeting
Technique of adjusting your social media ad content and targeting based on the location of a user.
Ads Manager
In the context of SMM, this can be referred to as the Facebook tool where you can manage your ad campaigns on Facebook, Instagram, and Audience Network.
Email Marketing Glossary of Terms
Email Marketing or EDM (Electronic Direct Mail) is the use of emails to promote products or services while developing relationships with potential customers or clients. EDMs are typically sent to first-party data prospect or customer lists.
Acceptance Rate
Percentage of email messages successfully delivered or accepted by mail servers.
Email Service Provider (ESP)
Software service that helps email marketers send out email marketing campaigns to their subscribers.
Dedicated IP
Refers to a singular IP address from which only one business can send emails.
List Segmentation
Technique used by email marketers to divide their contact lists into distinct groups or segments.
Personalisation
Practice of adding customised elements to emails to address recipients personally.