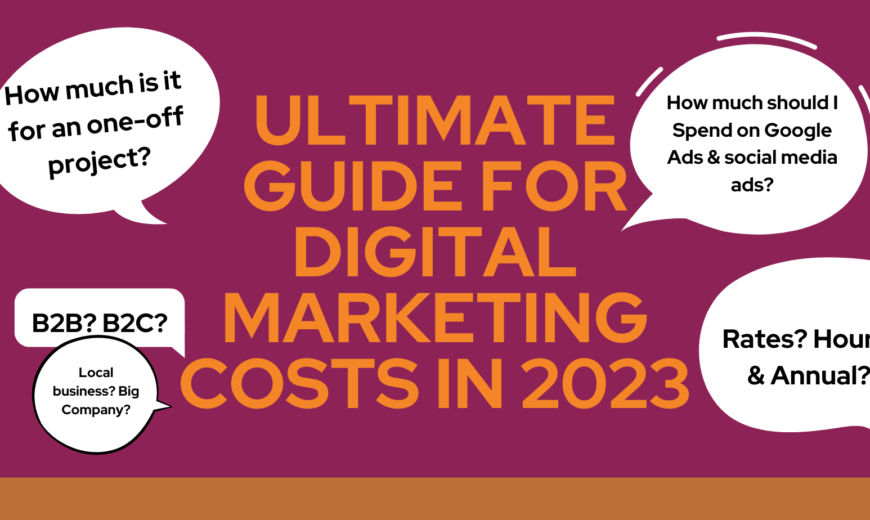 It's no secret that marketing is essential for businesses to grow and succeed in the digital age. But how much does it cost? Do you go it alone, or find a marketing agency? It all depends on your budget, needs and marketing goals.
How much should my Digital Marketing Agency charge me in the current Australian market?
There are a couple of schools of thought on this question. Firstly, are you looking for an hourly rate or a value-based arrangement?
Hiring a digital marketing agency gives you access to skilled experts that know how to get the most out of your budget. Many agencies offer comprehensive packages with services such as content creation, SEO optimisation, social media marketing, paid advertising management and more. It also frees up your time so you can focus on other areas of your business. The downside is agency fees, which can be expensive and vary depending on the agency's services offered.
Australian Digital Marketing Agency Hourly, Monthly, and Annual Rates
The cost of digital marketing services can vary based on the type of service required and the size of your business. According to PriceItHere.com, the average annual digital marketing cost ranges from AUD$50,000 to $206,000. Digital marketing agencies have different rates based on the level of expertise and the complexity of the tasks involved. Junior staff members and simpler tasks may be charged at around $130 per hour, while senior staff with greater experience and involvement in strategic activities may charge $250 or more per hour. For specific projects, the cost can range from $6,400 to $10,000.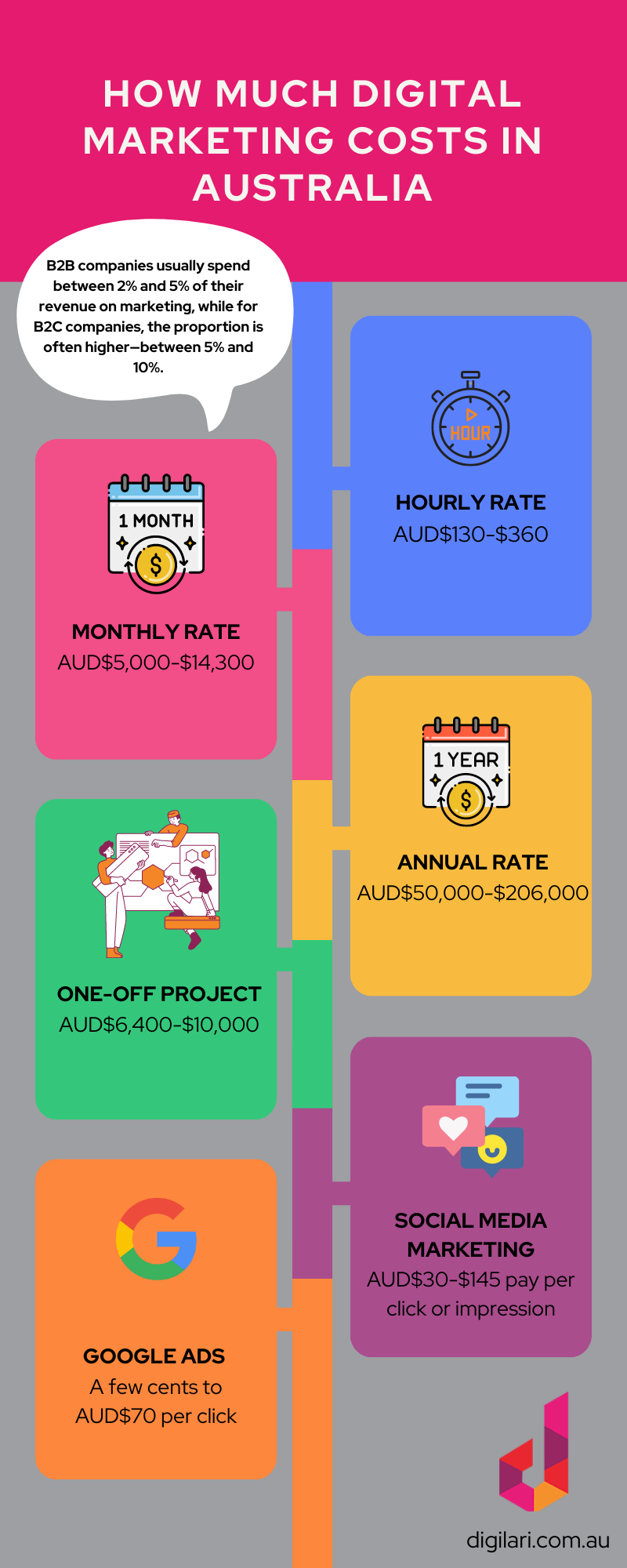 Hourly Marketing Consultant Services
For hourly marketing consultant services, most businesses can expect to pay around AUD$130 to $360 in Australia. This provides you with access to expert advice and guidance on your marketing strategies.
Monthly Services
For monthly digital marketing services, the price range is typically between $5,000 and $14,300. This includes ongoing support and management of your marketing campaigns.
Facebook Advertising Costs
Facebook advertising costs are influenced by audience size and reach. Prices can range from $30 to $145 per click or impression. The cost of Facebook ads will depend on the targeting options and the competition within your industry.
PPC Advertising Costs
Pay-per-click (PPC) advertising costs can vary depending on the campaign and platform. Prices can range from a few cents to over $70 per click. The cost will depend on factors such as keyword competitiveness and the industry you're in.
Understanding the cost of digital marketing services allows you to make informed decisions about budget allocation and maximise the effectiveness of your marketing efforts.
Social Media Management Costs in 2023
The cost of social media management in Australia varies based on several factors. On average, social media advertising can range from $3,000 to $5,000, while the cost per click (CPC) on platforms like Facebook, Twitter, and Instagram ranges from $0.50 to $6.40 per click. However, it's important to consider additional costs such as content creation and platform management.
When it comes to content creation, hiring a copywriting freelancer can cost around $20,000, while a full-time social media graphic designer's pricing ranges from $70,000 to $84,000. The type of social media platform you choose also affects costs, as each platform has its own advertising methods and competencies.
Boosting your content through sponsored posts can increase visibility, but it comes at an additional cost. It's also important to consider long-term services such as analytics and search engine optimisation (SEO) to optimise your social media strategy and improve search rankings.
Social media management agencies offer services that include platform management, social strategy, content development, and running paid social campaigns. The cost of working with an agency can range from $1,500 to over $5,000 per month (check out our Social Media Marketing service page for more information).
Alternatively, volume outsource providers offer cost-effective solutions with prices ranging from $200 to $800 per month, while specialist social media agencies provide dedicated team members and customised content for prices between $1,000 and $3,500 per month. Full-service marketing or advertising agencies offer a range of services, including social media marketing, with costs typically ranging from $4,000 to $22,000 per month.
Consider your goals, budget, and specific needs when choosing the right social media management option for your business.
Flexible packages that cover all your business needs. Brisbane's 5-star rated Digital marketing agency. Start with a FREE consultation.
Google Partners Sales Masterclass recommended $162.50 per hour
Attending one of the Google partner events, where they take you through best practices for client management. The facilitator Cardinal Path, a partner at the leading data-driven agency, was adamant that no agency should charge less than USD$162.50 per hour and this was nearly six years ago!
They came to this rate through a series of internal cost calculations. It clearly demonstrated the hourly rate could not possibly be any lower than this. He also confirmed this was the case for any agency whether they be in the US, the UK, Australia or Canada.
In general, we think they are right, but not just so we can charge a respectable hourly rate. But because any less than this does not make it viable for a digital marketing agency in Australia to achieve the desired results for clients.
"You Pay Peanuts You Get Monkeys"
That saying definitely applies to the realm of digital marketing. In fact, there are so many so-called digital marketing agencies out there who might know their way around a website, but the strategy is a foreign term to them. The cheaper the hourly rate, the less the quality of people any agency can attract and get the right outcome for the client.
Lower rates also tend to attract clients who are just looking for the cheapest option. Instead of looking at the potential growth that can be achieved by working with the right digital agency partner.
Simple equation: more clients in an under-resourced team creates time pressures and time pressures breed the 'skim' effect. Where work only happens on an account in a reactive sense, not a proactive sense, where every client should want their agency performing.
Hiring a Digital Marketing Agency vs. DIY
Doing it yourself has its own pros and cons too. You will have full control over every aspect of your marketing campaigns and can tailor them to suit your budget. You can also trial different techniques to find what works best for you. However, this does mean spending your own time researching and learning about all the marketing techniques available, so unless you are a digital marketing expert yourself, it's easy to get overwhelmed.
On one hand, DIY marketing can be a great way to save money and give you more control over your marketing plan. You'll likely have fewer resources than an agency, but if you have time and marketing know-how, it can save you money.
On the other hand, a marketing agency could offer access to more marketing tools and strategies than if you tried to do everything on your own. While the startup costs of hiring an agency may be higher, they will have expertise in marketing campaigns and analytics that can help your business grow quickly.
Related: In-House Marketing vs. Agency Marketing: Making the Right Choice for Your Business
Conclusion
So how much does digital marketing cost in 2023? Ultimately, it depends on your budget and marketing goals. If you're willing to put in some time and effort yourself, DIY marketing could be the way to go – but if you need expert help, an agency might be worth investing in. Whichever route you choose, make sure it's right for your business!
Flexible packages that cover all your business needs. Brisbane's 5-star rated Digital marketing agency. Start with a FREE consultation.